'BPC-P' SERIES
BPC- P is a portable machine which can be carried by technician on the move. Flexible shaft rotates at speed of 1740 rpm and water gets injected simultaneously through the nylon casing to the cleaning tool. As the tool removes the deposits, the water flow flushes them out. A solenoid valve ensures that water flows only when machine is running.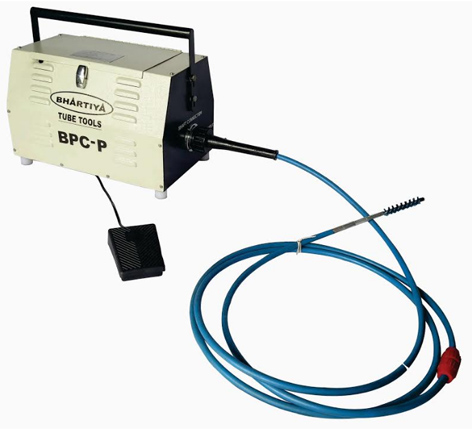 All units are available with following specifications :
115 v 60 Hz, 115 v 50 Hz – 9 Amps
220 v 60 Hz, 220 v 50 Hz – 4.5 Amps
While ordering, please mention electric specifications.
All units available with various electrical specification:
115v 60 Hz, 115v 50Hz - 9 Amps.220 v 60 Hz, 220v 50Hz -4.5 Amps.
Model No
Motor
Tube ID
Speed RPM
HP.
KW
Inch
Mm.

BPC-P

0.50

0.40

1/4 -1

6.4 – 25.40

1440