BPC-4′ SERIES
In Electric Tube Cleaner, the brushes or other cleaning tools are rotated through a tube at tip of flexible shaft. Simultaneously water gets injected, hence loosen deposits leaving tubes cleaned. Flexible shafts ensure use in bend tubes. This Tube Cleaning System is also known as HVAC Tube Cleaning Or Automatic Tube Cleaning Machine or Chiller Tube Cleaner Machine.

All models consist of tool storage box, single direction foot switch, mobile dolly. and Single direction foot switch. Above Chiller tube cleaning machine is also available with two direction foot switch.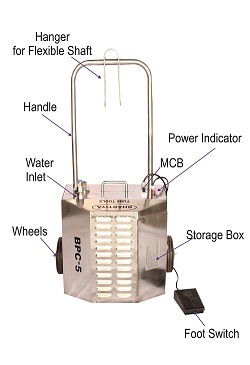 All units are available with following specifications :
115 v 60 Hz, 115 v 50 Hz – 9 Amps
220 v 60 Hz, 220 v 50 Hz – 4.5 Amps
While ordering, please mention electric specifications.
Model No
Motor
Tube ID
Speed RPM
HP.
KW
Inch
Mm.

BPC-3

0.75

0.56

1/4 -1

6.4 – 25.40

910

BPC-4

1.00

0.75

1/4 -1.1/4

6.4 – 31.75

910

BPC-4S

1.00

0.75

1/4-1

6.4 - 25.40

1440

BPC-5

2.00

1.50

1/4-1.1/2

6.4 - 38.10

910

BPC-6

2.00

1.50

1/4-1.1/4

6.4 - 31.75

1440