MODEL BPC 3-45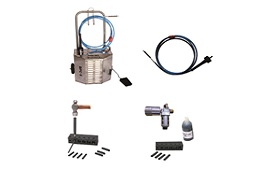 Model No. BPC3-45 chiller tube cleaning system uses a 3/4 HP motor for tougher deposits. A 2 directions foot switch is provided for cleaning internally enhanced tubes.

CONTENTS :
BPC-3 Tube cleaners-1
NFSC-703-45 Flexible Shafts-2
Nylon Brush (Specify Size)- 25
Two Direction Foot Switch-1
Repairing kit for flexible shaft NFSC-703 consisting of 4 drive couplings, 4 tool end couplings, 1 crimping tool with punch, 1 flexible shafts lubricator, & 2 bottles of lubricant Tubes.
All units available with various electrical specification: 115v 60 Hz, 115v 50Hz – 9 Amps.220 v 60 Hz, 220v 50Hz -4.5 Amps.